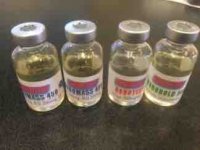 Send money and it comes 3 days later. How's that for service? If bitcoin wasn't such a bitch right now it would have come a lot faster.
Going to run the following cycle with the Robo gear starting in May:
18-20weeks Test and Boldenone
Test C 375 mg/week EQ 600 mg/ week
1-18 Test C 375 (1.5 cc/wk Robomass blend = 375 Test C and 300 EQ)
1-18 1 cc EQ300
2.5 cc per week
Split injections - Tuesday nite and Saturday morning. Each injection: Use 0.75 ml of blend and 0.5 ml of EQ 300 which works to be 1.25 ml twice a week. Love the convenience of dual compound blend.
Current stats:
43 years old, soon to be 44
6'3", 255 pounds hovering around 15% bf
Goals for this cycle are recomp to gain muscle but lean out. Going to maintain strength while upping the cardio using prowler, Hill runs, interval sprints.
Benchpress 370 (up from 290 before 1st cycle)
Squat 525 (up from 450 before 1st cycle)
Deadlift 560 (up from 525 before first cycle)
Can't wait until May
Sent from my iPhone using Tapatalk