Totally new to the forum. Thought I'd post a little bout myself and my past experiences.
Always a skinny dude so I was drawn to bodybuilding. Went natural for years and at around 18 I thought I might try some sports supps to help increase my gains. I bought some stuff from a max muscle shop above the Golds I was working out at the time. It came with a PCT bottle. I knew nothing at the time. Took the pills for awhile and didn't like the way they were making me feel so I stopped. That's when my gyno first started. I later realized that this supplement was banned and pulled off the shelves. It was some sort of prohormone crap.
Years past and I finally took the plunge and started my first cycle. To be honest I wasn't even close to being prepared. Like I'm sure a lot of young men aren't. I was young and dumb and knew very little bout what I was getting into. Didn't even know what gyno was and that I had it and didn't have anything on hand to prevent or stop any side effects..... let's just say I learned fast. Once the gyno flared up while I was on the cycle I was paying the price... bigtime. By the time I had researched and finally got what I needed to combat it with... it was too late. I stopped mid cycle that time and never touched anything since. That was years ago. But the gyno haunted me from then on.
I finally got my surgery. Was able to get it approved by Kaiser as a medical necessary surgery because my gyno was still flaring up periodically and I kept bugging them about it. They did a mammogram & bloodwork. It all came back clear and they were able to rule out any foul play. The gyno in my right pec was always more aggressive and had much more breast tissue inside. The doctor said she left a couple centimeters inside behind the nipple to prevent it from going inverted.
Well... here I am 2 weeks later and these freaking things are itchy and irritated as hell. I have to wear a compression vest on top of all this bullshit so it's aggravating them even further. Doc says it's normal swelling from the surgery but I say that's BS. My healing was going just fine the first week. Then all of a sudden the itchiness, puffiness, came on. An all to familiar feeling. Now the pain has started to settle in right behind the nips.
Anyway... I used to take Nolva to suppress the gyno from time to time when it would come on. I thought I'd never have to take anything again once I get the surgery. Now I'm searching for Nolva again and I hear letro is the real way to go.
Any tips, input, advice is much appreciated. Just wanted to share my experience.
Also, since I was on the forum researching how to treat off cycle gyno I started to get that itch to someday try a cycle again. I'm getting older and my body is probably not producing the same amount of test it used to. Probably why I have this gyno problem. So maybe next year once I have resolved the current issue. I might be looking to start up again. Any advice for someone gyno prone like me would be awesome!
Thanks and I've attached a pic of my lovey manly lump! JK
Looks like they pulled out my heart
[emoji12]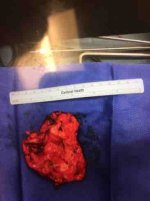 Sent from my iPhone using Tapatalk