Alright guys, I just finished a 6 weeks cut cycle with based on Ostarine/MK 2866, and have now started PCT.
Ephedrine: worked my way up to 80mg per day in first two weeks, then mantained that.
Was doing 40/40 but switched to 40/20/20 later on.
Caffeine: between 300mg and 500mg per day, taken in the form of capped guaraná powder, 100mg caffeine per dose.
MK 2866: 10/10/12.5/12.5/25/25
GW 501516: 0/0/10/10/10/20
I used some Proviron during the last 2 weeks, especially every day during the last week, 25mg per day.
Made me feel less sleepy, I think it is due to my test being lower than normal.
Testforce 2: 2 scoops per day all at once in the morning, weeks 5 and 6.
That equals to about 3g DAA Calcium chelate form and 3g Sarcosine per day.
Not really sure if the 3g is the actual weight of the DAA in it or DAA + Calcium.
Other supplements were myprotein's Alpha Men, Super B complex, vitamin D3 2500 to 5000iu per day, vitamin E 400iu/day, Super Omega 3, vitamin C 1-2 grams per day, green tea extract 250mg/day, vit B6 100mg/day, N-Acetyl L-Tyrosine 500mg/day, 5 or 10mg Melatonin per day and 200mcg Huperzina A per day.
Just started a 4 weeks PCT:
Clomid: 50/50/25/25
Nolva: 20/20/20/20
Have got some Aromasin and Letrone at hand in case the bloods show elevated oestrogen at some point during or after after PCT, and also some
Arimistane to control Cortisol if needed.
So I am 35, 5'7" (170cm ) starting weight was 72kgs, I am now 70.5, as somehow Ostarine made me significantly gain lean mass while losing a lot of body fat.
So it ended up being more of a a recomp than a cut.
I was on on a averaged 1744 kcalories per day, monitored though a nice android app. That's about 700-1000 kcal under maintenance for me.
The macro distribution was: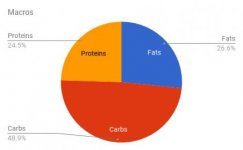 About 6 months before this cycle I did 2 checks of my test levels, and the results were 22.1 and 20.5 nmol/L (or 637 and 591 ng/dl).
The day after stopping the Ostarine I took another test (values out of normal range in red):
Hormones:
Testosterone: 10.9 nmol/L or 314 ng/dl
LH: 9.15 IU/L
FSH: 5.61 IU/L
Free Testosterone (calculated): 0.383 nmol/L or 11 ng/dl
17Beta-Estradiol: 63.8 pmol/L
SHBG: 9.22 nmol/L
Prolactin: 255 mIU/L
Liver:
ALP 35 IU/L
ALT 21.9 IU/L
CK 304 IU/L
Gamma GK 15 IU/L
Kidneys:
Creatinine 112 umol/L
Proteins:
Total protein 76.1 g/L
Albumine 40 g/L
Globuline 36.1 g/L
Cholesterol:
Tryglicerides 0.91 nmol/L
Cholesterol 2.66 nmol/L
LDL cholesterol 1.13 nmol/L
HDL cholesterol 1.12 nmol/L
Non-HDL cholesterol 1.53 nmol/L
HDL % of total 42%
Prostate:
Prostate specific AG (total) 2.65 ug/L
Thyroid:
TSH 0.493 mIU/L
Free Thyroxine 15.1 pmol/L
Free T3 5.08 pmol/L
What I wanted to ask was, is my PCT ok? Is my Prolactin too high? Should I get some Cabergoline?
What about the diet? Should anything have been different?
Any comments, suggestions, criticism etc welcome.