OSGEAR SUMMER DISCOUNTS - 40% OFF WEBSITE-WIDE
Buy from
OSGear
and you have more money for vacation!
40% discount - WEBSITE-WIDE!
PROMO CODE:
SUMMER40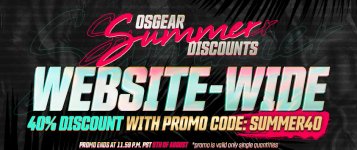 WEBSITE: https://osgear.se/
In order to have the promo code applied, choose the desired warehouse / products and add them to your cart 1x quantities (do not order from bulk section 5x, 10x because the promo code won't apply), then proceed to checkout.
Promo ends at 11:59 P.M. PST, 9th of August! BE FAST AND GET MORE!
Respectfully,
OSGear Team