Geneza Pharmaceuticals Test-E 250 is on sale for 50% off
Sale starts today until October 17, 2022


Buck up laddie. Fortune favors the bold. Be Bold with GP Test-E 250.
Get yours here: GP Test-E 250

Are you sick of being Mr. Average? GP Test E will take you from Mr. Average to Superman in no time. Whether you're bulking, cutting, or looking for a reliable TRT compound, the versatility of GP Test E means you can do anything. Test E isn't strictly a bulking steroid or a cutting steroid, it simply serves all purposes.
GP Test E can be run alone as a solo cycle, but it also stacks amazingly with GP Deca 250 and/or GP Bold 200, along with an oral such as GP Methan or GP Oxy for an impressive bulk. Looking to cut? Stack it with GP Tren, along with an oral like GP Stan or GP Oxan.
Be sure to take an AI to kick estrogens ass and keep it under control. Anastrozole, proviron, or tamoxifen are all great choices. Kicking things up a notch? Stronger Ais such as Letrozole or exemestane have your back.
Interested? Click here to shop: Geneza Pharmaceuticals Test-E 250
Every week, NapsGear allows customers to vote on their favorite products to be "Product of the Week". The winning product for Product of the Week will go on sale for 50% off! So don't forget to get your votes in weekly!
Vote For Product Of The Week Here: VOTE NOW!

Customer Gear Porn Below!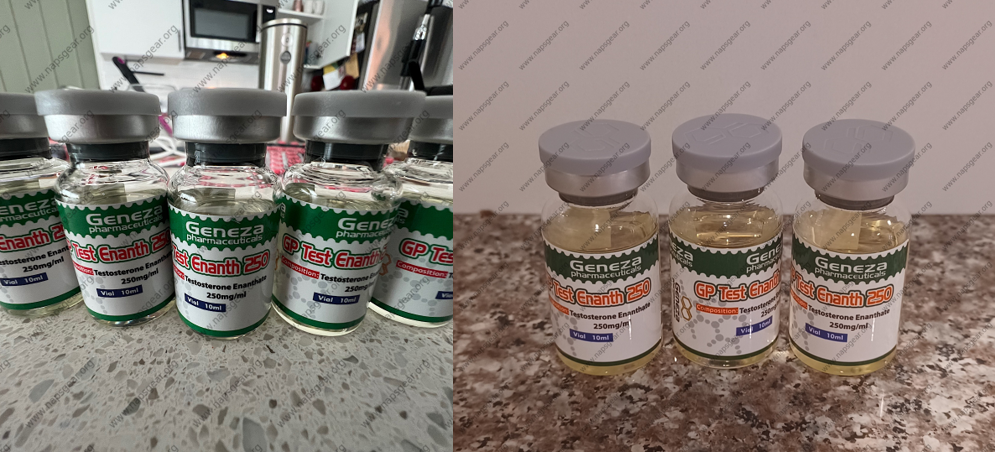 The Fine Print
Please note, once the sale is over, the price will change back to regular pricing, even if you have it saved in your cart. So act fast to get the best price.
The discount can't be applied to special prices, and quantity discounts cannot be combined with any coupon codes.
Interested? Click here to shop: Geneza Pharmaceuticals Test-E 250

NapsGear.org
The Industry's Largest and Most Trusted Pharmaceutical Marketplace
Industry Tested – Customer Approved!
High quality, independent lab tested products.
Safe, secure, and discreet packages delivered straight from the manufacturer to your doorstep.