OSGEAR SELECTED BRANDS WEEK
Our customers favorite brands are our pick for this week promotion! Save money and get more -
30% OFF + BUY 2 GET 1 FREE
!
PROMO CODE: SELECT30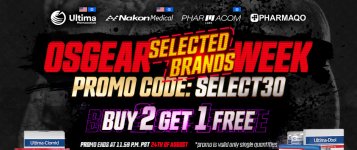 ULTIMA PHARMACEUTICALS (
INT
/
US DOMESTIC
)
ULTIMA PEPTIDES
NAKON MEDICAL (INT / US DOMESTIC)
PHARMACOM LABS
PHARMAQO
The promo code - SELECT30 - is not applying if your order products from the bulk category (5x, 10x) so please make sure that you order 1x quantities.
As the promo says, BUY 2 GET 1 FREE, you'll have to buy 2x packs from a product and the 3rd pack is automatically added. The promo is not applying if you order different products.
Promo ends at 11:59 P.M. PST, 24th of August! BE FAST AND GET MORE!
Respectfully,
OSGear Team