Order placed Sunday, shipped Tuesday since Monday was a holiday, and it arrived today (Thursday). M.G.P., for the win!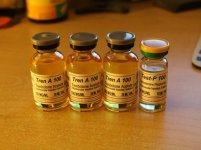 Huge thanks to Thin D. Arrived in time for my birthday tomorrow, so happy early birthday to me! I'll be celebrating my birthday with a few friends on Saturday, recovering Sunday, and starting my new cycle on Monday. Can't wait!
Thanks again, Thin D. You're an absolute joy to do business with and I'll definitely be ordering from you again.