Hi Guy's
My current status:
Age:29
Weight: 205 pound
PBF: 33 %
Total Body water: 99.4
Dry lean mass: 36.8
Body Fat Mass: 69.6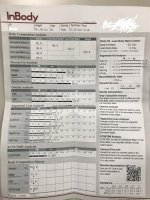 Note: Please find the Attach image
Goal : 180
PBF : 9-10 %
Time duration: 6 months .
Want to have the transformation like this.
This guy
Age : 52
Weight : 230 Pounds
https://www.youtube.com/watch?v=1aVw1gZ9Ncg
My starting weight was 215, I lost weight. I'm currently taking care of my diet and working out AM and PM.
Supplements: Pre-workout, Protein, Multivitamin, Fish oil, Gree tea extract, and ZMA.
I thought of getting some extra help,
Question: What should I choose SARM's or Steroids to get this kind of body?
Question: What would be the best beginner cycle to get results like this?
Important Question : How and what would be the best source in California ?