Shout out to Pharma Lady for coming through with my order. Honorable mention to brother CCBRAM for the advice. Thank you so much for your patience and business [emoji120].
First order was stopped and destroyed by customs but Pharma Lady came through with no problem re-shipping my order.
Everything came in except my HCG but I'm sure she'll have no problem re-shipping it when she recovers from her surgery(praying for a speedy recovery [emoji120]).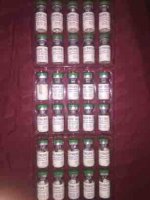 Sent from my iPhone using Tapatalk